Online reputation management has traditionally concentrated on TripAdvisor reviews. Hotels and restaurants in particular know how important online reviews have become ever since sites such as TripAdvisor came into the spotlight almost two decades ago.
Google with its "of course, we can do it better" mantra has beefed up its own review platform, which is fully integrated into its existing search and maps empire. They always play to win. All of Google's recent upgrades have served to make them a better information center for the end user. TripAdvisor with its hyper-narrow focus might be the biggest review website in the world today, but it is getting pushed to the sidelines by a bigger and smarter competitor.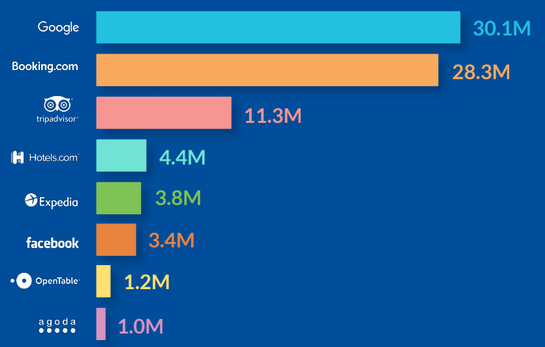 Review Distribution by Site – Source: Revinate
As expected, Google indeed did overtake Booking.com in the #1 position, as both sites are now dominating the field, with TripAdvisor coming in as distant third. While 74% of reviews were posted on four sites in 2017, a greater percentage is now concentrated in only the top 3 – Google, Booking and TripAdvisor.