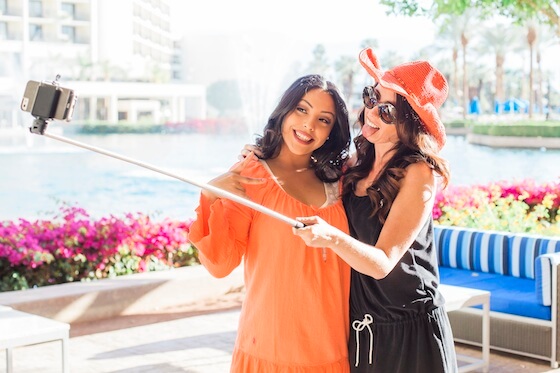 Organisational, peer or social pressure dulls our sensibilities as individuals. Cultivation of senses is necessary to refine aesthetic experiences which act as filters through which individuals can be stimulated. If these filters are opaque, they would block out a lot of sensations that could otherwise have triggered a creative process in our minds.
The JW Marriott Desert Springs Resort & Spa in California has launched "Your Spring Selfie" package, which includes overnight accommodations for two, a hand-held selfie stick, a guide to the resort's most photogenic locations. Guests are also encouraged to share their selfie stick photos with hashtags such as #SpringSelfie, #DesertSprings, #DesertPlayground, #HaveItAll, and #experiencejwm. Each month, the resort will select a winning Instagram post for a complimentary room upgrade for the winner's return visit.
"Instead of guests choosing between the mountains, the palm trees, or their smiling face, we saw the selfie stick as an ideal solution for taking those quintessential shots, and still being a part of the picture," says the general manager of JW Marriott Desert Springs.
Talk about starving one's sensibilities!